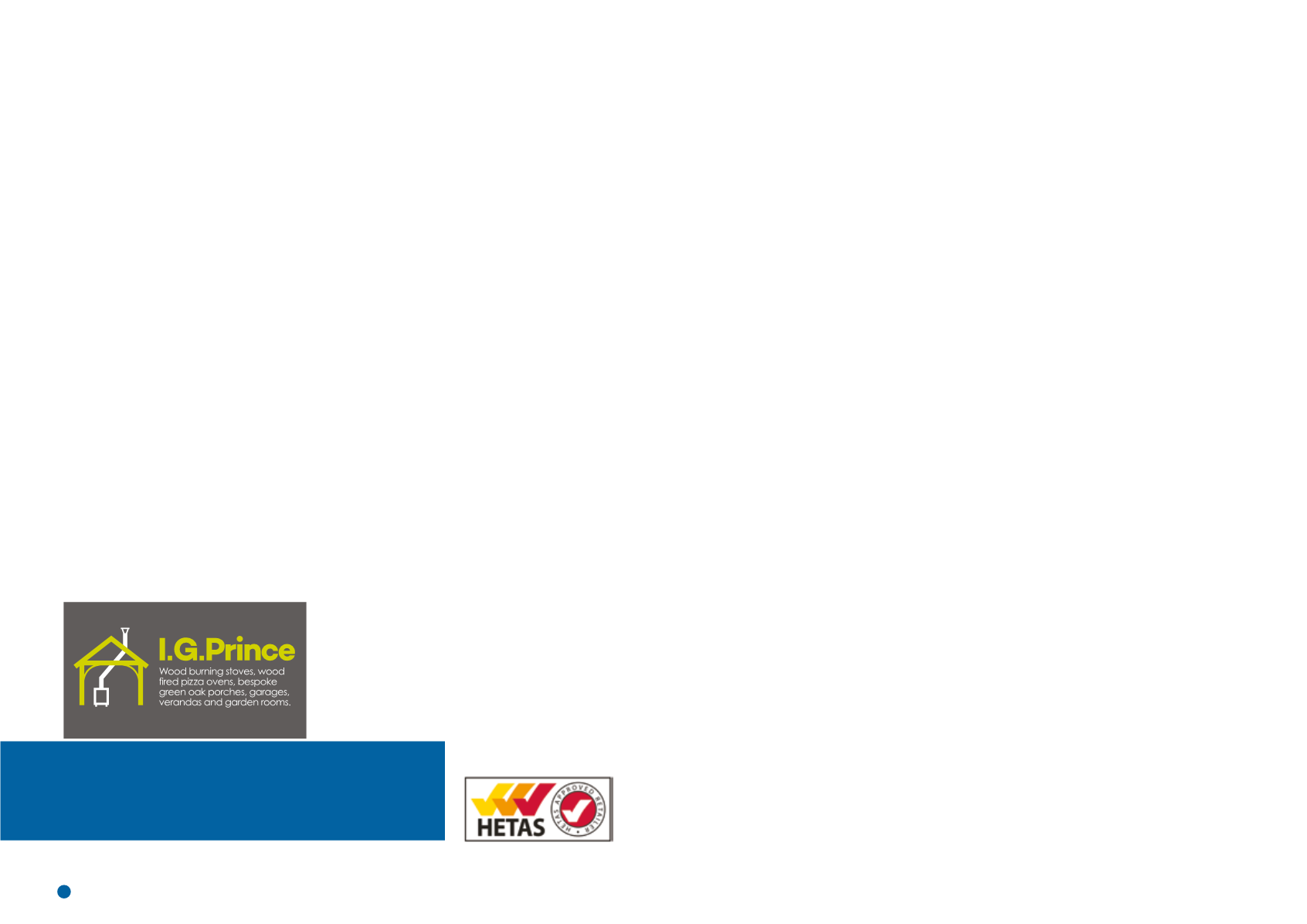 10
©
Copyright Glaric Consultancy Ltd. 2015
With over 15 years experience in the building trade and over
6 years as a HETAS qualified wood burning stove installer
I.G.
Prince
provides a variety of personal and bespoke services to
improve and enhance your home and garden. These include:
∙
Wood burning stove supply and installation
∙
Wood fired pizza and bread ovens supply and installation
∙
Wood burning stove servicing, repair and sweeping
∙
Chimney repair and rebuilding
∙
Bespoke green oak porches, garages, verandas and garden
rooms
After an initial telephone conversation they will visit your property
to complete a free site survey and following that a full no
obligation written quote will be provided.
I.G. Prince can offer advice on the right stove for your home and
they specialise in Charnwood and Termatech stoves, although they
can supply and provide advice for other wood burners including
existing wood burners already installed at your property. As a
HETAS qualified installer they will also ensure that your wood
burner meets all building regulation and safety requirements.
I.G. Prince also specialise in supplying and fitting Vitcas wood
fired pizza ovens which make a fantastic addition to any outdoor
space, and can also be fitted inside too.
Once a wood burner is fitted I.G. Prince's services do not end
there. They carry out building and repair work on chimneys as
well as servicing and repairs to any wood burning stove.
I.G. Prince also design and build bespoke green oak structures.
They can fit wood burning stoves into any garden room which
means use of your garden for the summer months and beyond.
I.G. Prince provides honest and experienced advice along with a
personal service using the highest quality products and materials.
Call them today to discuss your requirements.
Making your house a home
Tel: 01626 330 891
Mobile: 07540 115 502
Email:
igprince2011@gmail.com
www.stoveinstall.co.uk