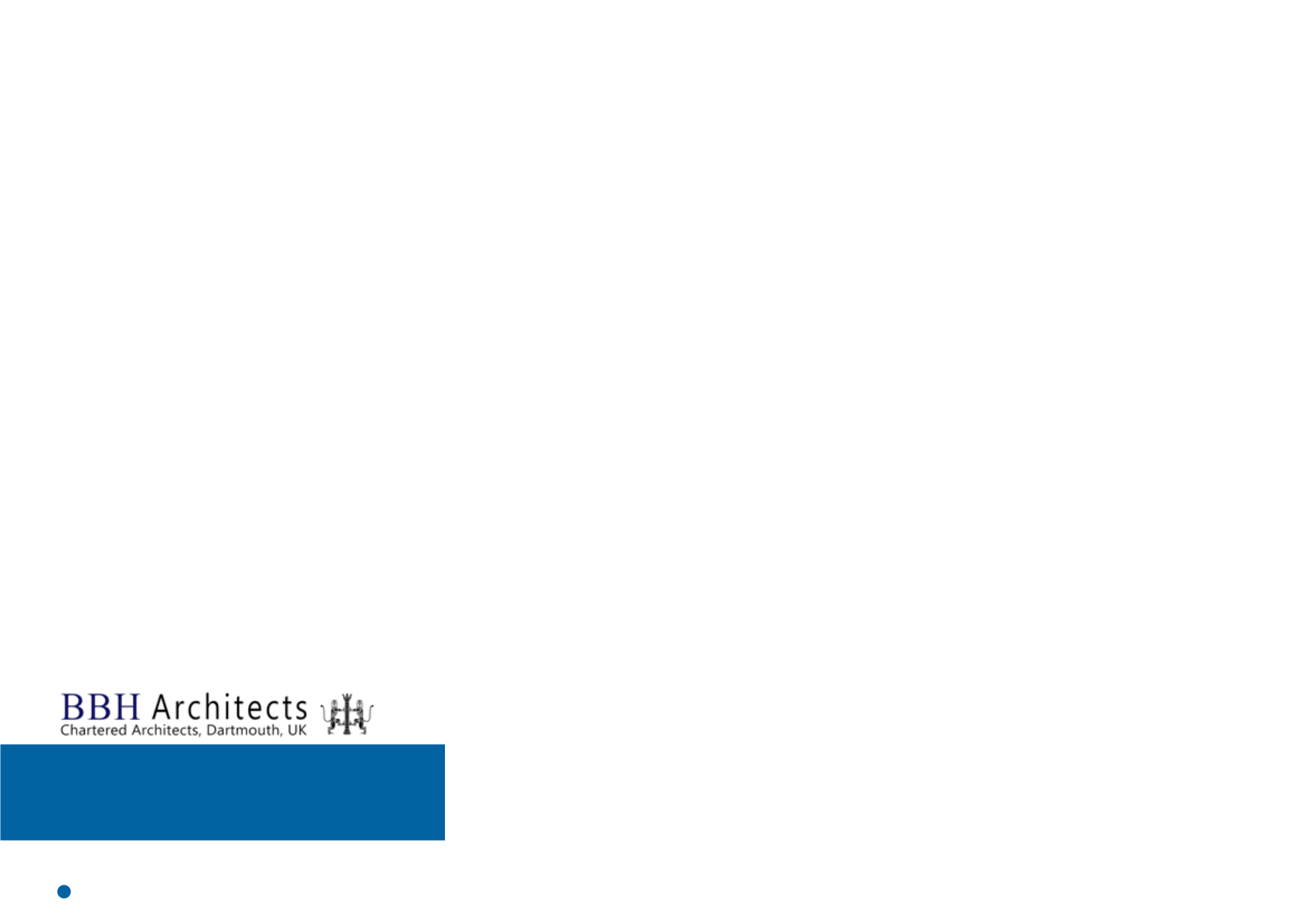 6
©
Copyright Glaric Consultancy Ltd. 2015
There are many individual reasons for needing the services of
an architect – maybe you are thinking of building a new home,
carrying out an extension or an alteration, or possibly you just
wish to see how to maximise the potential of your property.
BBH Chartered Architects
have over 35 years experience as a
RIBA Chartered Practice in Dartmouth and are a respected local
architectural practice who are recognised for many well-known
projects throughout the South West. Recently they received the
Judges Special Award as part of the LABC Building Excellence
Awards South West 2014. They undertake primarily residential
projects, but also undertake industrial, commercial, business and
retail commissions.
They should be involved from the earliest stages of your project,
as they are able to offer you the benefits of their experience in
deciding how to maximise the potential of your existing property
or indeed, to propose ideas for the property you are about to
purchase.
When you contact them, they will explain how they can help you
gain more space, or make better use of your existing space. Their
initial consultation is free, at which point they will discuss with you
any planning or building regulation constraints, discuss ideas on
layout and design and advise you on a suitable budget.
They will discuss your needs in detail and then produce a
feasibility design scheme. Once you have decided on the specific
area of your home or business that requires attention, they will
draw up the plans and submit these to the Local Authority for
Planning and Building Regulations approval.
BBH have a tremendous amount of knowledge and experience in
how these two processes work and know how to satisfy the very
demanding and specific requirements of a Local Authority. They
will also prepare the full building specifications needed to obtain
competitive prices from various building contractors.
They will advise on the appointment of a suitable contractor, and
undertake project management whilst the contractor is on site.
BBH are more than happy to provide a full service from start to
completion of a project, or any part of this the client wishes. No
project is too small or too large for BBH to become involved with.
BBH Chartered Architects (Dartmouth) Limited will offer a
dedicated architectural service and have the experience,
knowledge and professionalism to enable them to provide realistic
and inspired solutions to satisfy all of your building requirements.
BBH Architects take pride in producing designs and results of
which all involved can be proud.
Whatever your project, contact them and let them help you.
The complete Architectural and Design Service
9 Duke Street, Dartmouth, Devon, TQ6 9PY
Tel: 01803 834 076
Email:
office@bbhdartmouth.co.uk
www.bbhdartmouth.co.uk