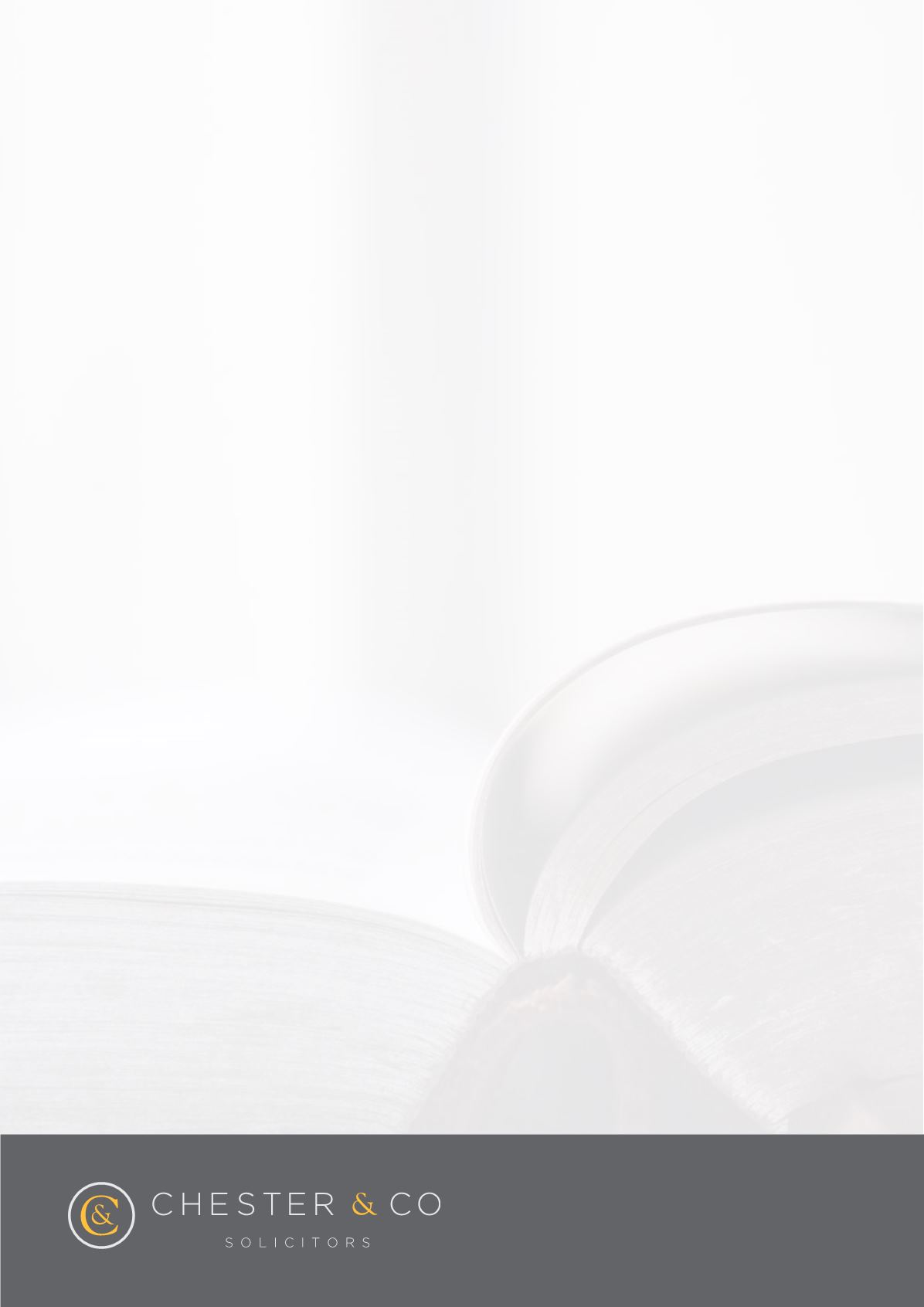 Ground Floor Office, 480 Christchurch Road,
Bournemouth, BH1 4BD
Tel: 01202 395 395
Email:
info@chesterlaw.co.uk
www.chesterlaw.co.uk
Reassuringly professional legal advice
Chester & Co Solicitors
is a progressive firm of solicitors
who were founded in 2000 by John Chester. They have
experience across a wide range of legal services, including
helping people buy and sell property.
They are fast gaining the reputation for being one of
Bournemouth's leading conveyancing law firms and for the
quality of their service based on their understanding and
commitment to fulfilling their clients wishes.
They have become known for providing a particularly
personal service and always keep their clients updated
on the progress of their transaction. Chester & Co also
respect the fact that to attract new clients and keep up their
large percentage of repeat clients they must be effective,
progressive in their approach and understanding in their
attitude.
Their aim is not just to serve the needs of their clients on a
one off basis, but to encourage the client to return to them
whenever they need specialist legal advice.
They are proud to offer a set fee for conveyancing matters
meaning that their costs are completely transparent.
Chesters & Co Solicitors are delighted to announce that
they have recently become CQS accredited.
The Law Society's Conveyancing Quality Scheme (CQS)
provides a recognised quality standard which means that
their clients as well as lenders, regulators and insurers can
be assured of a level of credibility.
Like all good solicitors they recognise the need to specialise
and Chester & Co Solicitors have a dedicated team of
professionals able to offer specialist advice across a broad
range of legal issues.
Their services include:
•
Residential Property
•
Commercial Property
•
Landlord and Tenant
•
General Litigation
•
Lease Extensions
•
Transfer of Equity
•
Wills and Trusts plus much more
The house buying and selling process can be a minefield
and there are a host of different processes which have to
be covered.
Chester & Co Solicitors will keep you informed of each step
and make sure that you understand just what is happening.
This is just an example of how the practice views the
relationship between their clients and themselves. It is a
partnership where everyone benefits from the final outcome.
Chester & Co Solicitors have learnt over the years that
situations in life are rarely black and white which is probably
why they believe that they are a law firm who really stand
out from the crowd.